La Quinta Community Fitness Center & Park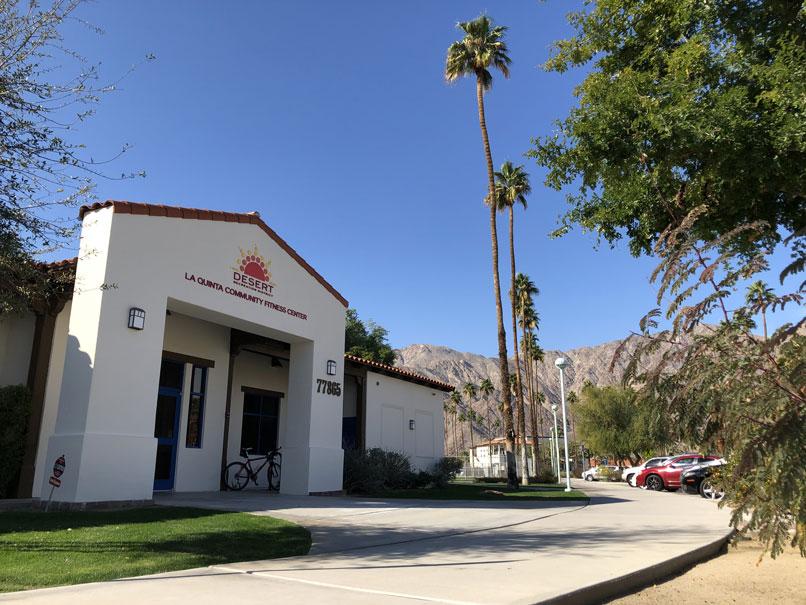 La Quinta Community Park has just about everything to fit your recreational needs such as a baseball diamond, playground, basketball courts, and even an outdoor gym for a workout under the sky.
La Quinta Community Fitness Center is the place for all your health and fitness needs. We have the latest equipment by TechoGym and even personal trainers to help you take your fitness goals to the next level.
Hours: Monday - Friday 5:30 a.m. – 9 p.m. SAT 8 a.m. – Noon.
77-865 Avenida Montezuma
La Quinta, CA 92247
(760) 564-9921
Get your annual DRD Get Fit Pass today! It gives you free access to our fitness facilities in Indio, La Quinta, Palm Desert and North Shore. La Quinta Residents pay only $75 per year!
La Quinta Community Fitness Center
Top-of-the-Line fitness equipment by TechnoGym
Qualified Personal Training staff
Spa-like atmosphere
Wellness System with personal Smart Key available to track your progress and activity*
The Wellness System is available as an upgrade to the annual $50 resident Get Fit Pass. Sign up today and start creating your personalized fitness program!
La Quinta Community Fitness Center Artwork
This famous original sculpture is a centerpiece of the La Quinta Fitness Center. It is made possible and funded by the City of La Quinta for the La Quinta Community Fitness Center and is now part of the city's permanent art in public places collection.
La Quinta Community Park
Pack a picnic basket, grab the Frisbee and lace up your sneakers. La Quinta's parks are a great place to enjoy the sunshine and beauty of the desert.
Amphitheater
Picnic pavilions
Outdoor fitness course and walking loop path with stations & basic equipment for strength training
Basketball courts
Ball field
BBQ's
Swings & children's' play area
To find out more information about how you can hold your next fun event with us in La Quinta, call (760) 564-9921, or click here to make a reservation online now!
Coral Mountain Park In La Quinta
Avenue 58 and Jefferson, La Quinta, CA 92247 (620 acres)
Explore our rich desert heritage! The Valley's first archeological park is currently under development as the result of a partnership between the Bureau of Reclamation and the Desert Recreation District. The Coral Mountain Interpretive Center will help protect our rich history for generations. The Center will also include interpretive trails, picnic areas and a learning center. This major project encompasses just over 600 acres, 123 of which will be designated for public access.
City Of La Quinta Parks
The City of La Quinta actively promotes a healthy lifestyle for all ages. Residents and visitors can go hiking or biking on La Quinta's many scenic mountain trails and play sports, swim, golf and picnic at its well-groomed parks. For information call (760) 777-7000 or visit www.la-quinta.org.