Autism in Lock Down: Distance Learning For Your Student on the Spectrum
Autism Society Inland Empire - Webinar series supported by Zoom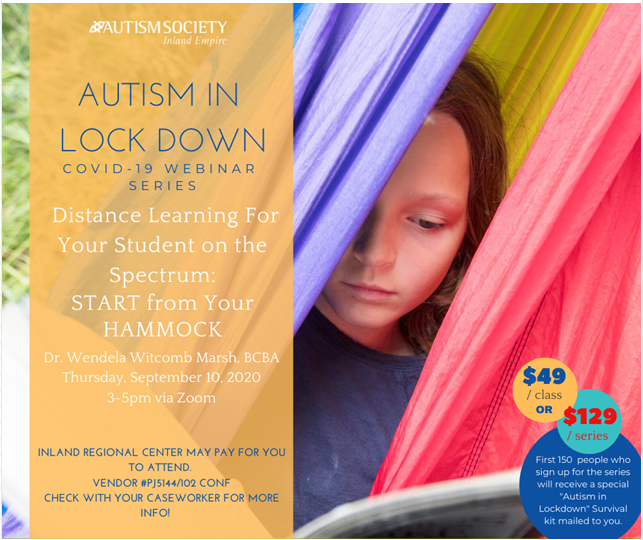 Sign up for all three workshops for $129 and receive a special Autism in Lockdown Kit!
Audience: Family members and professions who work with students with I/DD preschool through 8th grade
Presenter: Wendela Whitcomb Marsh, MA, BCBA, RSD, is the author of Independent Living with Autism: Your Roadmap to Success, and The ABCs of Autism in the Classroom: Setting the Stage for Success. Drawing from her experience as a special education teacher, educational psychologist, and behavior analyst, and her personal history as spouse and parent of autistic adults, she offers insights and practical solutions to many challenges associated with Autism Spectrum Disorder (ASD).
Description: Parents and educators face the new reality of distance learning and new routines in classrooms. Parents and professionals are concerned with the physical and educational wellbeing of students while distance learning. It is more important than ever to set the stage for success by providing the tools your student needs to be the best they can be. Dr. Marsh describes the how to build structure for better behavior as well as identifying activities to keep your child engaged throughout the day.
Learning Objectives:
Learn strategies for
· Supporting individuals on the autism spectrum's need for routine
· Activities to support socio-emotional needs of students.
· Accommodations that can be used to help students not be overwhelmed with schoolwork.
Fee: $49 pp for one presentation or $129 for all three and the Autism in Lockdown Survival Box. These conferences are vendored with Inland Regional Center – PJ5144 -102